Approvechalo: Learn the Spanish Language by Wikibooks contributors (Wikibooks) - 2006
This Wikibook aims to teach the Spanish language from scratch. It will cover all of the major grammar rules, moving slowly and offering exercises and plenty of examples. It's not all grammar though, as it offers vocabulary and phrases too, appealing to all learners. By the end, you should be able to read and write Spanish skillfully, though you'll need a human to help with listening and speaking.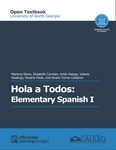 Hola a Todos: Elementary Spanish I by Mariana Stone (University System of Georgia) - 2018
This is a preliminary Open Textbook as created by the UNG Elementary Spanish I grant team using a Round Six Textbook Transformation Grant. The textbook is currently composed of original instructional materials created for the OER-based course, and the team is working to create a full open textbook at a later date.

Elementary Spanish I by Ana Ivette Serrano (Penn State) - 2016
For both, the teacher and student alike, this Spanish I book is intended for a first-year, college Elementary Spanish I level. It also attempts to make the study of a language in this case, Spanish, more than another required subject. Eliminating the artificial limitation of the traditional textbook, offers the teacher and the student the ability to tailor the content to their own needs. Also, this book tries to show the value of learning a second language from a high quality pedagogical criteria at a low cost solution.
---
Entrada Libre: Intermediate/Advanced Spanish Manual by Nancy Ballesteros, Alejandro Lee, & Cristina Moon (2020):
ASCCC OERI.
Entrada libre is an intermediate/advanced college-level Spanish OER grammar manual for second language learners and heritage speakers of Spanish at the community college level. Instructors will be able to download the entire manual as well as the H5P activities library or use the OER Remixer from LibreTexts to adapt, edit, and customize content and publish it in their LMS. Each of the 24 units includes a reading with examples of the grammar points used in context, grammar explanation, and self-graded follow-up activities for practice using H5P as a formative assessment. Entrada libre can be used with Acceso, an existing open-access project created by the University of Kansas which contains great cultural readings and resources for intermediate and advanced levels.