Advertising Campaigns: Start to Finish by Michael R. Solomon et al (2012): Flat World Knowledge.
If you watch the hit TV show 24, you know that what you see happens in real time (Jack Bauer and his buddies have some busy days!). Launch! is like that (without the explosions). It's built around an actual advertising campaign for SS+K's client msnbc.com—a campaign that continues to evolve even as you read this. You'll read, see, and hear about the campaign from many of the people who actually did the work (including one member of our humble author team). That means that the Table of Contents is organized a bit differently than "old world" texts. The chapters follow the campaign's timeline—you'll see this timeline at the beginning of each chapter. It's a convenient way to keep track of where you are and where you're going as you accompany the SS+K folks on their perilous mission.

---
Launch! Advertising and Promotion in Real Time by Michael Solomon (2009): Saylor Foundation.
Launch! Advertising and Promotion is written for advertising and promotion courses taught to students in the business school and journalism & mass communication students. Students get a realistic sense of how theory plays out in practice, and get a flavor for the exciting field of advertising and promotion. And, they consistently learn the perspectives of both the advertising agency (where many journalism and communications students will work) and the client (where many marketing majors will work).

---
Writing for Strategic Communication Industries by Jasmine Roberts (2016): Ohio State University Libraries.
Good writing skills are important in today's competitive work environment. This is especially the case for communication-related professions such as public relations, brand communication, journalism, and marketing. Writing for Strategic Communication Industries emphasizes practical application of academic inquiry to help readers improve their writing skills.

---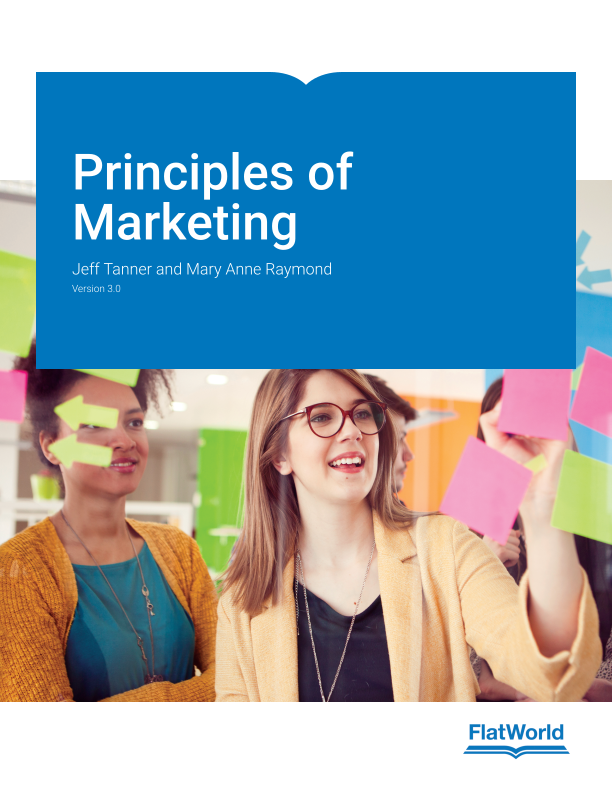 Principles of Marketing by Jeff Tanner et al (2010): Flat World Knowledge.
Principles of Marketing is an up-to-date overview into what is going on in the field of marketing today. This textbook covers topics such as: Content marketing, social media best practices, and crowdfunding and crowdsourcing. This is a resource to show students how to actually use these techniques and market.

---
Introducing Marketing by John Burnett (2011): BCcampus.
Through good economic times and bad, marketing remains the pivotal function in any business. Determining and satisfying the needs of customers through products that have value and accessibility and whose features are clearly communicated is the general purpose of any business. It is also a fundamental definition of marketing. This text introduces students to the marketing strategies and tools that practitioners use to market their products.

---
eMarketing: The Essential Guide to Marketing in a Digital World by Rob Stokes (2018): Red & Yellow.
The newly updated edition - based on Quirk's unique Think, Create, Engage, Optimise structure and processes - includes chapters on the latest marketing trends as well as updated facts and figures and all new real-world case studies showing the application of digital best practice. Other important updates include: Expansion of the THINK section to better position itself as a platform for approaching the rest of the book and the marketing process overall. Enormous improvements to the Market Research and Strategy chapters and the addition of a Content Strategy chapter. New Usability Design chapter. Expansion of the Video Marketing and Mobile chapters to reflect the growing importance of these areas in the digital landscape.