Exploring Movie Construction & Production: What's so exciting about movies? by John Reich (2017): SUNY
Exploring Movie Construction & Production contains eight chapters of the major areas of film construction and production. The discussion covers theme, genre, narrative structure, character portrayal, story, plot, directing style, cinematography, and editing. Important terminology is defined and types of analysis are discussed and demonstrated. An extended example of how a movie description reflects the setting, narrative structure, or directing style is used throughout the book to illustrate building blocks of each theme. This approach to film instruction and analysis has proved beneficial to increasing students' learning, while enhancing the creativity and critical thinking of the student.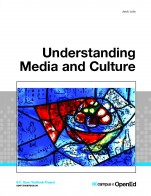 Understanding Media and Culture byJ ack Lule (2019): Lehigh University
This book's title tells its intent. It is written to help you understand media and culture. The media and culture are so much a part of our days that sometimes it is difficult to step back and appreciate and apprehend their great impact on our lives. The book's title, and the book itself, begin with a focus squarely on media. Think of your typical day. If you are like many people, you wake to a digital alarm clock or perhaps your cell phone. Soon after waking, you likely have a routine that involves some media. Some people immediately check the cell phone for text messages. Others will turn on the computer and check Facebook, email, or websites. Some people read the newspaper. Others listen to music on an iPod or CD. Some people will turn on the television and watch a weather channel, cable news, or Sports Center. Heading to work or class, you may chat on a cell phone or listen to music. Your classes likely employ various types of media from course management software to PowerPoint presentations to DVDs to YouTube. You may return home and relax with video games, television, movies, more Facebook, or music. You connect with friends on campus and beyond with text messages or Facebook. And your day may end as you fall asleep to digital music. Media for most of us are entwined with almost every aspect of life and work. Understanding media will not only help you appreciate the role of media in your life but also help you be a more informed citizen, a more savvy consumer, and a more successful worker. Media influence all those aspects of life as well.

---
Introduction to Mass Media by William Hart, Ph. D. (2018): Wikibooks
So, what is Mass media? Mass media is communication that is to a large group, or groups, of people in a short time (Mass Media, 2013, p.1). This can be written, spoken or broadcast communication. Some of the most popular forms of mass media are newspapers, magazines, radio, advertisements, social media, television, Internet, and films/movies. Mass communication refers to the technology that is used to communicate to a large group, or groups of people in a short time frame (Pavlik & McIntosh, 2004, p. 22). There are other forms of communication. Interpersonal communication is kind of how it sounds. It's more personal and is usually face-to-face between two or more people (Interpersonal Communication Skills, 2013, p.1). Now, there can be interpersonal communication that is not face-to-face.

---
An Introduction to Technical Theatre by Tal Sanders (2018): Pacific University
An Introduction to Technical Theatre draws on the author's experience in both the theatre and the classroom over the last 30 years. Intended as a resource for both secondary and post-secondary theatre courses, this text provides a comprehensive overview of technical theatre, including terminology and general practices. Introduction to Technical Theatre's accessible format is ideal for students at all levels, including those studying technical theatre as an elective part of their education. The text's modular format is also intended to assist teachers approach the subject at their own pace and structure, a necessity for those who may regularly rearrange their syllabi around productions and space scheduling.

Media Studies 101 by Erika Pearson (2013): University of Otago
Media Studies 101 is the open educational resource for media studies studies in New Zealand, Australia, and Pacifica. We have constructed this text so it can be read in a number of ways. You may wish to follow the structured order of 'chapters' like you would in a traditional printed textbook. Each section builds on and refers back to previous sections to build up your knowledge and skills. Alternatively, you may want to go straight to the section you are interested in -- links will help guide you back to definitions and key ideas if you need to refresh your knowledge or understand a new concept.This text is open under a Creative Commons NZ BY license.

Understanding Media and Culture: An Introduction to Mass Communication by Unknown Author (2016): University of Minnesota Libraries
Understanding Media and Culture: An Introduction to Mass Communication was written to squarely emphasize media technology. The author believes that an introduction to mass communication text should be a compelling, historical narrative sketching the *ongoing evolution* of media technology and how that technology shapes and is shaped by culture — and that is what he set out to deliver with his new textbook.

Digital Tools in Media Studies: Analysis and Research. An overview by Michael Ross et al (2019): Media Upheavels
Digital tools are increasingly used in media studies, opening up new perspectives for research and analysis, while creating new problems at the same time. In this volume, international media scholars and computer scientists present their projects, varying from powerful film-historical databases to automatic video analysis software, discussing their application of digital tools and reporting on their results. This book is the first publication of its kind and a helpful guide to both media scholars and computer scientists who intend to use digital tools in their research, providing information on applications, standards, and problems.