Exploring Movie Construction & Production: What's So Exciting About Movies? by John Reich (2017): SUNY.
Exploring Movie Construction & Production contains eight chapters of the major areas of film construction and production. The discussion covers theme, genre, narrative structure, character portrayal, story, plot, directing style, cinematography, and editing. Important terminology is defined and types of analysis are discussed and demonstrated. An extended example of how a movie description reflects the setting, narrative structure, or directing style is used throughout the book to illustrate building blocks of each theme. This approach to film instruction and analysis has proved beneficial to increasing students' learning, while enhancing the creativity and critical thinking of the student.

---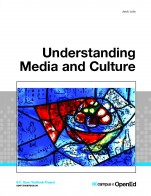 Understanding Media and Culture by Jack Lule (2019): Lehigh University.
This book's title tells its intent. It is written to help you understand media and culture. The media and culture are so much a part of our days that sometimes it is difficult to step back and appreciate and apprehend their great impact on our lives. The book's title, and the book itself, begin with a focus squarely on media. Media for most of us are entwined with almost every aspect of life and work. Understanding media will not only help you appreciate the role of media in your life but also help you be a more informed citizen, a more savvy consumer, and a more successful worker.

---
Media Studies 101 by Erika Pearson (2013): University of Otago.
Media Studies 101 is the open educational resource for media studies studies in New Zealand, Australia, and Pacifica. We have constructed this text so it can be read in a number of ways. You may wish to follow the structured order of 'chapters' like you would in a traditional printed textbook. Each section builds on and refers back to previous sections to build up your knowledge and skills. Alternatively, you may want to go straight to the section you are interested in -- links will help guide you back to definitions and key ideas if you need to refresh your knowledge or understand a new concept.This text is open under a Creative Commons NZ BY license.

---
Understanding Media and Culture: An Introduction to Mass Communication by Unknown Author (2016): University
of Minnesota Libraries.
Understanding Media and Culture: An Introduction to Mass Communication was written to squarely emphasize media technology. The author believes that an introduction to mass communication text should be a compelling, historical narrative sketching the *ongoing evolution* of media technology and how that technology shapes and is shaped by culture — and that is what he set out to deliver with his new textbook.

---
Digital Tools in Media Studies: Analysis and Research. An overview by Michael Ross et al (2019): Media Upheavals.
Digital tools are increasingly used in media studies, opening up new perspectives for research and analysis, while creating new problems at the same time. In this volume, international media scholars and computer scientists present their projects, varying from powerful film-historical databases to automatic video analysis software, discussing their application of digital tools and reporting on their results. This book is the first publication of its kind and a helpful guide to both media scholars and computer scientists who intend to use digital tools in their research, providing information on applications, standards, and problems.