Open Music Theory by Kris Shaffer et al. (2014): Hybrid Pedagogy Publishing.
This textbook is meant to support active student engagement with music in the theory classroom. That means that this text is meant to take a back seat to student music making (and breaking). It is not the center of the course. As a result, most of the pages in this textbook do not read like a typical twentieth-century textbook. They are somewhere in between prosy lecture notes and reference material, with minimal graphical or audio examples. Also, unlike many resources for "flipped" classes, there are few resources in this textbook where the core information is presented in video. We made these decisions consciously, so that this would not simply be a multimedia, web-based version of an industrial-era textbook. Rather, we wanted to create a textbook that could serve as a quick reference in the context of active musical engagement.

---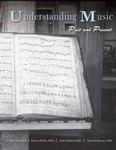 Understanding Music: Past and Present by N. Alan Clark et al. (2015): University Press of North Georgia
Understanding Music: Past and Present is an open Music Appreciation textbook co-authored by music faculty across Georgia. The text covers the fundamentals of music and the physics of sound, an exploration of music from the Middle Ages to the present day, and a final chapter on popular music in the United States.

---
Music: Its Language, History and Culture by Ray Allen, Douglas Cohen et al (2014): Brooklyn College.
This text contains introductions to works representative of a variety of music traditions. These include the repertoires of Western Europe from the Middle Ages through the present; of the United States, including art music, jazz, folk, rock, musical theater; and from at least two non-Western world areas.
---
Introduction to Music Appreciation by Bethanie Hansen et al (2014): American Public University ePress.
Introduction to Music Appreciation is about listening, appreciating, understanding, and discussing music. It explores the history, aesthetics, and criticism of Western music for an enhanced understanding of the topic. Chapters include: Musical Elements, Critical Listening, and Course Overview: Early Western Art Music, The Baroque Era, The Classical Era, The Romantic Period, Twentieth-Century Music, Jazz & Music of the World.

---
Guitar (2020): WikiBooks.
The aim of this book is to introduce beginners to the basic concepts of the guitar. Important techniques are given their own sections with exercises and examples provided. It includes an extensive section on amplifiers and numerous tips and advice on all aspects of the guitar. Music theory concepts are clearly presented and explained.

---
Choral Techniques by Gordon Lamb (2010): CNX.
Choral Techniques is written for conductors of high school, college, church and community choirs, and for students preparing for such positions. The material contained in this book is the result of this author's research and personal experience with high school, university, civic and church choirs. I want to thank my colleagues in the profession including my former students, who have made suggestions for the several editions.